THE POPSICLES BAND
is a collaboration between husband and wife team:
JEFF WALKER (aka J.Walker)
,
spoken word artist, author and trainer;
and
GILLI MOON
, Artist Entrepreneur, singer/songwriter/recording artist, author and speaker.
Together, they are "edu-tainers" who create projects that empower youth, artists, music lovers and audiences worldwide, with unique music and artist creations.
SKILLZ FOR LIFE
is a collection of PROJECTS, CONCEPTS and EVENTS designed to empower our youth, performed by
THE POPSICLES
.
One of the most intriguing and empowering couples in Hollywood are not only inspirational artists but also wife and husband: Gilli Moon and J.Walker

Gilli Moon and J.Walker are unique and celebrated artists who have created a life for themselves that many aspire to. But their roads to finding each other, and to their level of success, were the path least traveled.


Jeff Walker (aka J.Walker)
is a Rhymecologist®, J
.Walker is a counselor, a poet, a performer, a rapper, a teacher, a motivational speaker, an author and a healer
.
With his Masters in Educational Psychology and almost 10 years counseling youth in the high risk Los Angeles streets, J.Walker is in tune with the "real needs" of today's youth. He also is the celebrity resident poet on Fox Radio nation-wide.
The creativity and passion that J.Walker uses has helped him win numerous poetry slams and talent shows all through Los Angeles. He conducts groups and seminars throughout the US and is often invited to speak on music business panels about Hip Hop, as well as appear and perform in the Corporate area for working adults. Check out J.Walker's website at www.rhymecology.com
Gilli Moon
is an international award-winning singer-songwriter, recording artist and performance artist, as well as author, and music producer. From the wilderness of the "Aussie bush" where she grew up on solar-power and a house built from wood and stone from the forest, she has conquered Hollywood and the U.S Music Industry with her own self-branded Artist image and record company, Warrior Girl Music, to unbelievable success as an
independent
artist. With a Bachelor of Education, she has also taught in schools and conducted workshops for kids across Australia and the United States, including running a rock music camp for kids. She is also a certified executive/business and personal life coach who has published 3 books as well as programs for artists through her
Creative Warrior Academy
, and
Songsalive!
Check out Gilli Moon's music website at
www.gillimoon.com
The Ethos
Living the lives of self-empowered, abundant artists, rich in creativity, projects and dreams, Gilli and J. found each other in L.A, got married, and created their first joint album and program, called
SKILLZ
: The mission of the SKILLZ CD is to use the power of hip-hop lyrics to help young people express, discover and create themselves in positive ways.
The path least traveled:
From being the underdog, and taking on a different path, the "warrior" path, we can become who we truly are supposed to be in life. Never could we have imagined that we would be the Artists we are today, if we hadn't taken a different course, not defined by current norms or social standards.
Through our Artists' eyes, we want to take all of you on a journey. Our journey, of finding the road and ultimately finding ourselves – arriving at victory.
We believe in Living life with NO FEAR. Feeling SELF EMPOWERED, and MASTERS OF YOUR OWN DESTINY. Life is about taking a leap of faith, and dreaming BIG. It's about facing obstacles and overcoming road blocks to achieve personal greatness. It's about defining success on your own terms, not by "others" standards, and by thinking outside the box, being innovative and brave.
We believe in
being
warriors in life
, -being in charge of our own destiny; enjoying the journey (not just the destination), pursuing creative freedom, and at the same time being very disciplined and diligent in our pursuit of excellence in everything we do. We must dream big, and strive to give our best in life
---
Contact us
to learn more about how we can inspire your youth.
Powered by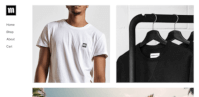 Create your own unique website with customizable templates.